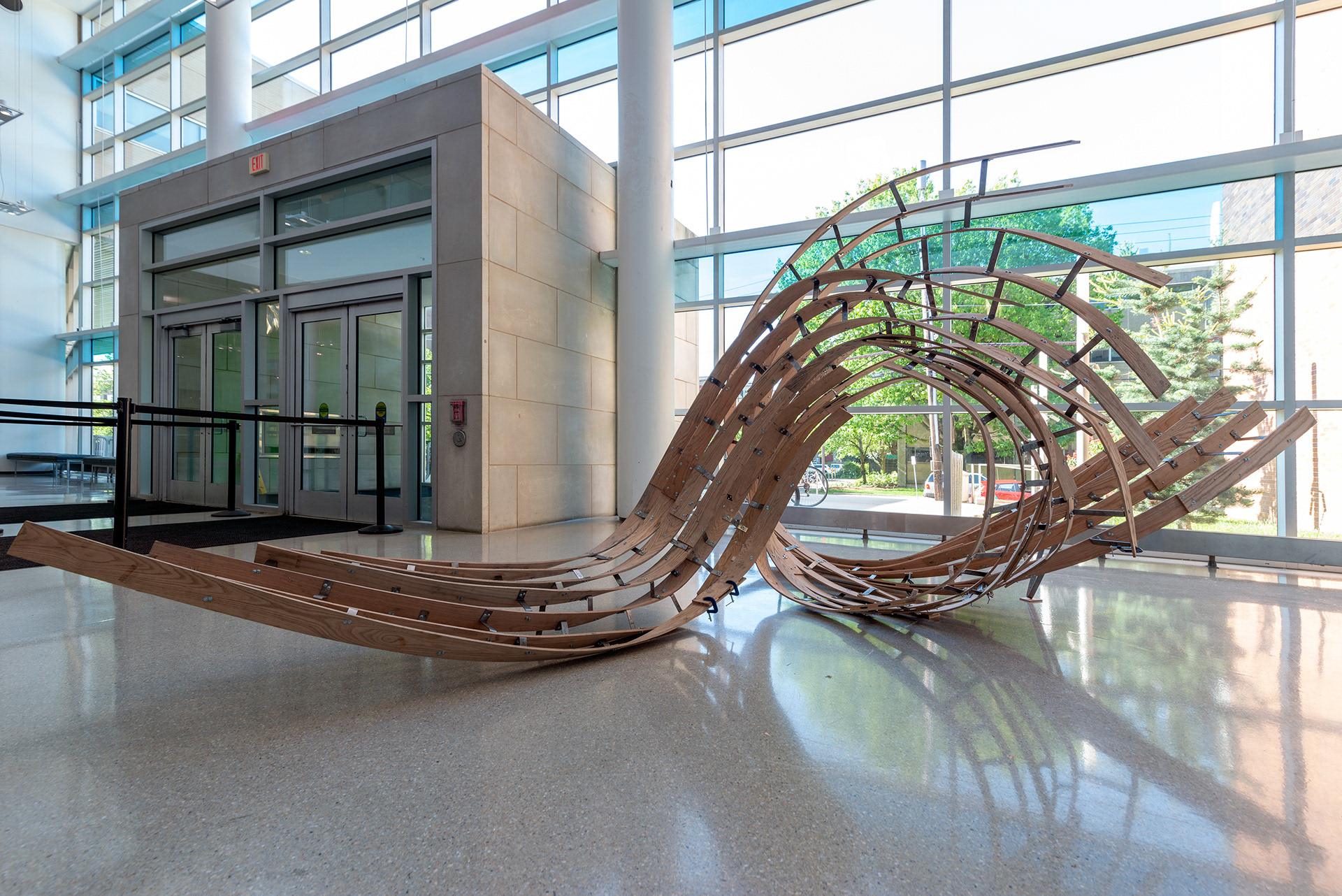 PRINCIPAL INVESTIGATORS:

 Gwyllim Jahn (Main), James Pazzi (Main) w/ Andrew John Wit, Tim Rusterholz + Chris McAdams
FABRICATION:

 Andrew John Wit, Tim Rusterholz, Gwyllim Jahn, James Pazzi + Chris McAdams
STUDENT BUILD TEAM:

 Deni Behaj, Justin Bernard, Avery Bordley, Jillian Carlisle, Tinashe Chikomo, Emir Coskun, Victoria Fratarelli, Hayley Goddard, David Harkavy, Carrion Lover-Lily, Dan Mirer, Peehu Sinha, Michael Wilhoit, Alan Williams + Seth Zimmerman
     1. ACADIA 2019 Conference Proceedings. "[BENT]. Holographic handcraft in large-scale steam-bent timber structures."
     1. Tyler School of Art, Philadelphia PA; 
     2. Cherry Street Pier. Design Philadelphia 2018, Philadelphia PA; 
DESCRIPTION:

 Over the past two decades, advances in computation, digital fabrication and robotics have opened up new avenues for the design and production of complex forms, emergent processes as well as new levels of efficiency. Many of these methods though, tend to focus on a specific tool such as the industrial robotic arm. Due to their initial costs and space/ power/safety requirements, difficulties associated in creating automated workflows and custom tooling, as well as the need for reliable/repeatable procedures, these tools are often out of reach for the average designer or design institution. Additionally, these tools are typically treated as methods of production rather than collaborators, leaving outcomes that can feel void of craft, with the appearance of a typical CNC machined object. 
Rather than focusing on a specific production tool for manufacturing, this paper investigates a novel method for holographic handcraft-based production. The holographic augmentation of simplistic and easily attainable analog tool sets allows for the creation of extremely complex forms with high levels of precision, in extremely short durations of time. Through the lens of the recently completed steam-bent timber installation [BENT] produced at the Tyler School of Art, this paper discusses how the Microsoft HoloLens in conjunction with the Fologram software plug-in can be integrated into the entirety of design and production processes as a means of producing a new typology of digital craft.