PRINCIPAL INVESTIGATORS:

 Andrew John Wit + Chad Curtis
EXHIBITED @:

Design Philadelphia 2022, Tyler School of Art + Architecture Lobby Gallery (forthcoming) 
DESCRIPTION:

Carbon + Clay physicalizes the dematerialization of crafted form through hand wound / woven carbon fiber tow and computationally 3D printed ceramics. The project aims to transform the historically massive into near weightless objects that dissolve into their surroundings. Forms typically associated with ceramic vessels and architectural interventions that had for millennia created division between space, interior and exterior, now dissolve into an intricate network of depthless woven fibers, filaments, vectors, curves shadows, and colors, blurring the boundaries between interior and exterior. 
Carbon + Clay acts as a physical manipulator of space, never the same from any two vantage points or times throughout the day. It expands and contracts through its manipulation of light and shadows; it comes alive with the movement of people and landscapes that surrounds it; it distorts its viewers perception as its physical presence, dissolving as one approaches; and from below it merges with the dense steel roof trusses of the Cherry Street Pier. 
Carbon + Clay asks its viewers to reevaluate their preconceptions. Their preconceptions on disciplinary boundaries; ceramic and architectural form and materiality, traditions of craft, and how we use and interact with space and the others. 
IMAGE NOTE: 

Carbon fiber exhibition structure designed and crafted by Andrew John Wit; Ceramics designed and crafted by Chad Curtis.
Carbon + Clay @ the Tyler School of Art + Architecture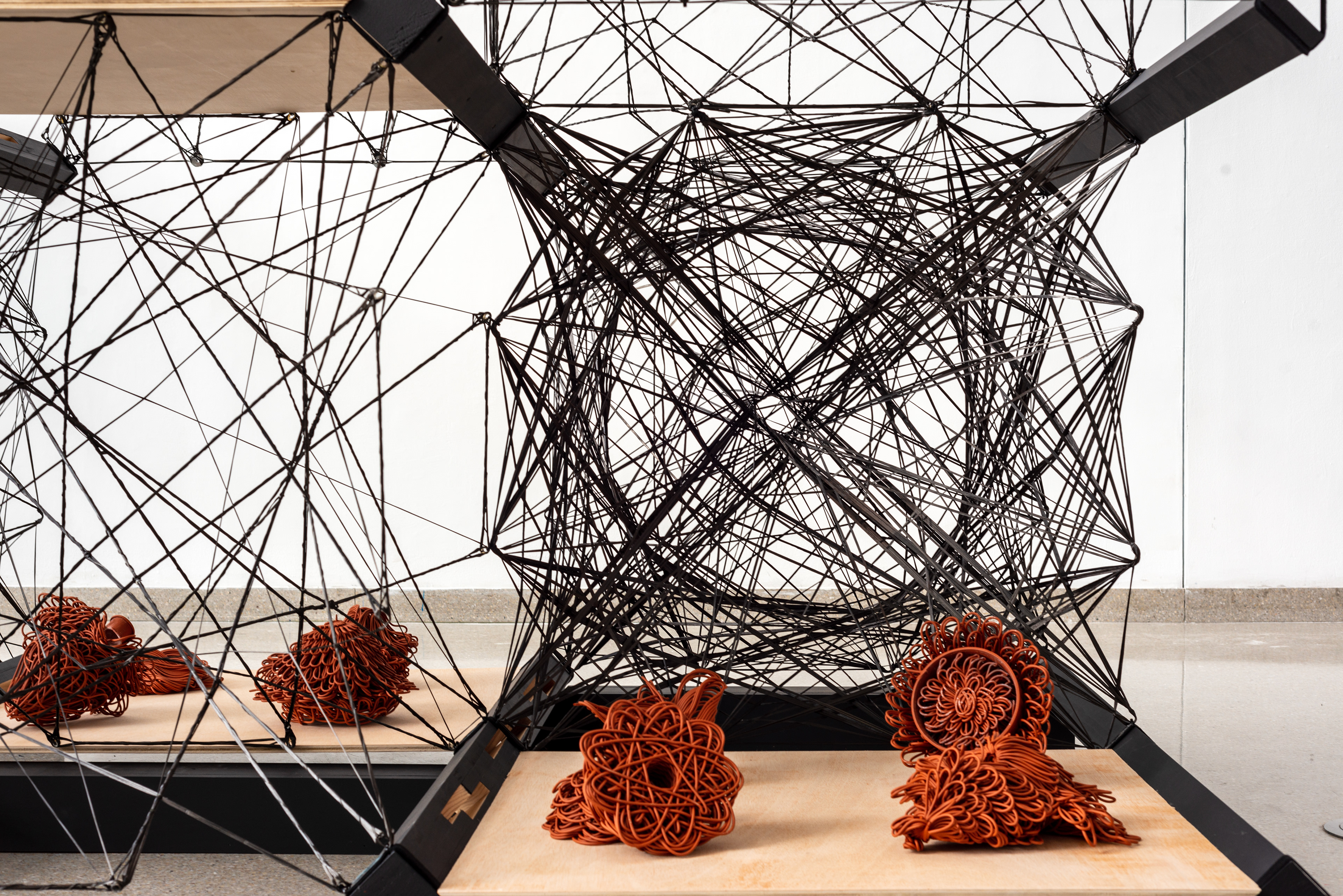 Carbon + Clay @ the Cherry Street Pier