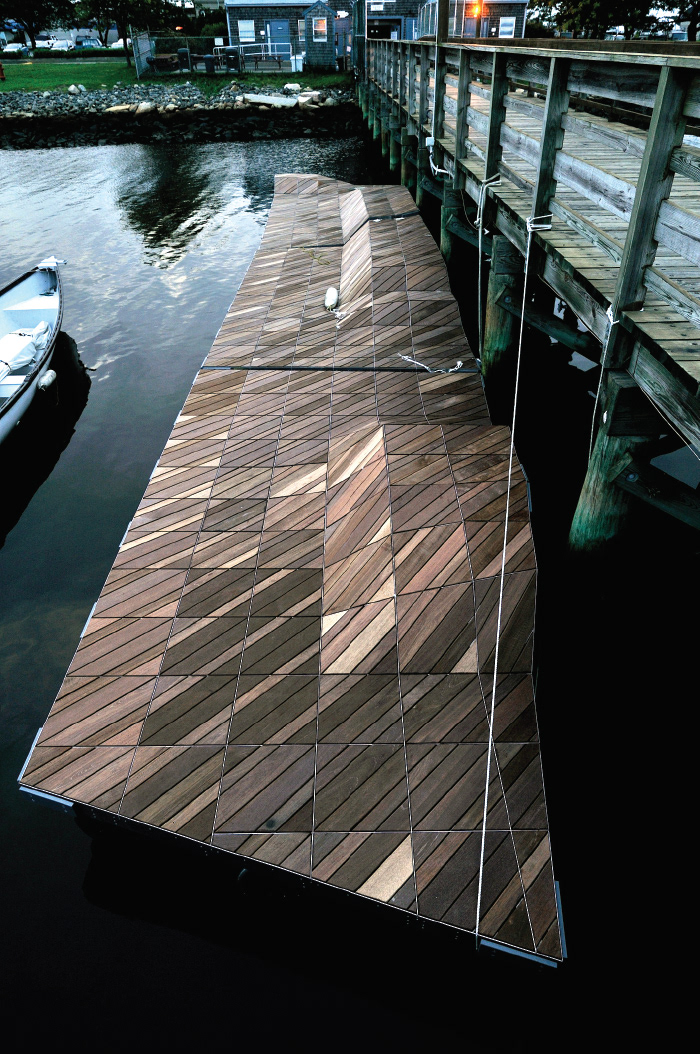 FACULTY LEAD:

 Meejin Yoon
STUDENTS: 

Andrew John Wit, Thaddeus Jusczyk, Mary Hale, Ryan Murphy, Adele Phillips, Colin Kerr Chris Taylor . . 
PROJECT STATUS: 

Complete. 2008. New Bedford, MA.
DESCRIPTION: 

In the of Fall 2008 at the Massachusetts Institute of Technology, the city of New Bedford, MA proposed a design build studio to be lead by Professor Meejin Yoon. As a once booming industrial town, New Bedford had seen its once beautiful shorelines reduced to unusable industrial wastelands. Littered with abandoned buildings and polluted with heavy metals, the Acushnet River has long been seen only as an unusable burden to the community. After a century of misuse, we now find the riverfront once again beginning to open up. With the industries having left decades earlier, the community has now began asking how the shoreline could become inhabited once again. In an attempt to revitalize this rivers edge, we were asked to design and build solutions which would engage both the Acushnet River and its surrounding communities.
Project Staging: Broken into two stages, the studio attempted to deal with the sites issues with multiple scales. The first stage called for the design of a community boathouse where large international rowing events could be held. This boathouse would function as a catalyst for the reopening of the river to the surrounding communities. The second phase of the project called for the creation of a smaller public river interface. FLOATSCAPE was that new interface. FLOATSCAPE's launch was set to be the initial phase of construction, with its launch signifying the groundbreaking of the larger project (FOLDSCAPE). Functioning as one continuous project upon completion, it was necessary that FLOATSCAPE was able to link to and fold into the larger boathouse. This necessity along with the need to serve multiple programs, and a ease of movement called for a simple user centric design with the ability to reconfigure quickly into multiple sizes and orientations.
Informed Form: FLOATSCAPE's form, materials and fabrication methods were all influenced by many factors. Following are several which informed the form:
 1) The proposed programs was extremely vast. New Bedford wished to create a project which not only accompanied individuals, but also had the ability to simultaneously handle groups of over fifty people. FLOATSCAPE would be utilized for fishing, relaxing, parties, concerts and finally as a boat dock. The large variations in program type and size led us to sub-divide the project into smaller modules with the ability to be reconfigured on site as necessary. 
2) Because the city wished to accompany many sizes of boats ranging from a single user canoe up to a sixty foot long eight man sweep rowing boat, flexibility in the reconfiguration of the modules became very important. To accompany both large and small boats while not resorting to uniform forms, the modules were tessellated into unique units which when reconnected, would create more uniform overall shapes of different lengths and orientations. 
3) As FLOATSCAPE's main use would be for individuals or small groups of people, it was important that the form conformed to the different aspects of the human body. The undulating landscape was programmed around the different orientations of the human body. The individual modules create seats, lounges and flat platforms for the users. When the tessellations are connected into new configurations, the landscape expands creating a singular flowing surface for human inhabitation. 
4) Maneuverability: As FLOATSCAPE would have no means of mechanical propulsion, it was important to create modules which were easily maneuvered and reconfigured both in individual components or as a whole. To accomplish this, the modules were fabricated from a rigid/ light weight aluminum waffle frame system with infill wood panels, while also attempting to minimize surface to water contact. 
5) Because the modules were built on MIT's campus nearly ninety minutes from New Bedford, ease of transport was necessary. Module widths were modified to fit easily on a flatbed truck, and weight was again minimized further to allow for the modules to be loaded and unloaded by hand.