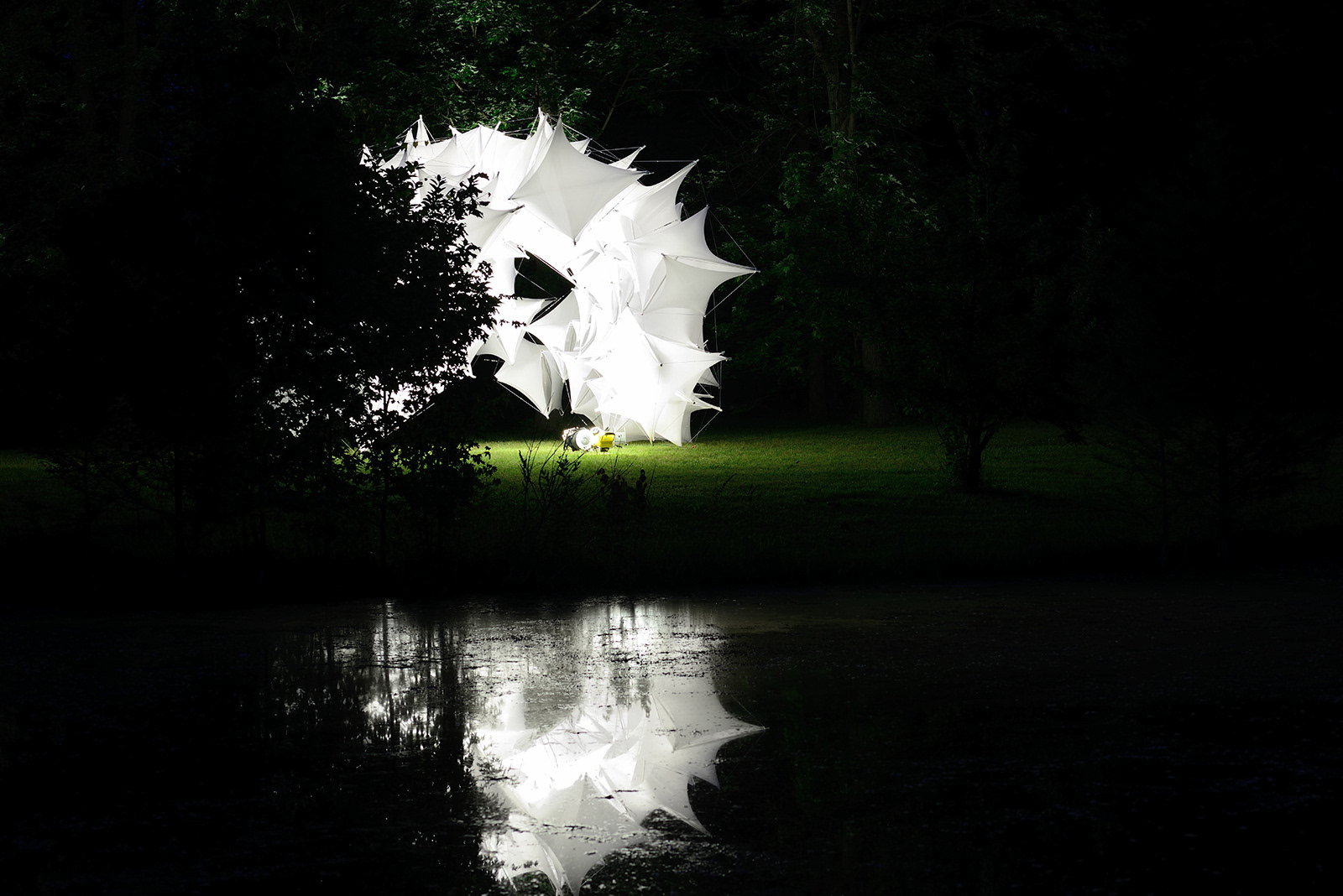 PRINCIPAL INVESTIGATORS:

 Andrew John Wit + Gernot Riether
STUDENT RESEARCHERS: 

Noor Al-Noori, Andrew Heilman, Chris Hinders, Charles Koers, Huy Nguyen, Nick Peterson, Steven Putt + Ashley Urbanowich
     1. AAG2016 Conference Proceedings. "The Underwood Pavilion. A parametric tensegrity structure."
     2. SIGRADI 2015 Conference Proceedings. "Redefining the Parametric Pedagogy."
     3. ACADIA 2015 Conference Project Proceedings. "Underwood Pavilion. A digital design build studio."
     4. CAADRIA 2015 Conference Proceedings. The Underwood Pavilion. A case study in parametric tensegrity."
     5. ACSA 2015 Conference Project Proceedings. "Underwood Pavilion."
     1. Full Invited Exhibit. Muncie Makes Lab. Summer 2014.
DESCRIPTION: 

The qualities and potentials of a post-industrial landscape were celebrated though a traveling pavilion attracting people to places that are currently not considered public space. Currently the pavilion is located close to Muncie, a city of 70,000 inhabitants in central Indiana. Teamed up with the local art community the pavilion was used to kick off their monthly First Thursday Art Event, which expanded public interaction and awareness into the cities surrounding post-industrial landscape. Through negotiations with local property owners, private property was turned into a unique art-destination.
With $5,000 budget granted from the Department of Architecture and community partners Prof. Gernot Riether and Prof. Andrew Wit scouted for possible locations for the pavilion prior to their summer studio that they co-taught. The summer studio, a five-week intense Digital Design Built course open to graduate students was dedicated to design and built the pavilion as a light-weight structure. The extremely short time frame of 5 weeks was met by a very rigid schedule.
Tensegrity structures are not very common in architecture. The reason might be that they cannot be predicted from their geometric characteristics alone. More dynamic qualities such as tension play a critical role in its formation. The design of the BSU pavilion showed how tools such as the Rhino plug in Rhino–Membrane and the Grasshopper plug-in Kangaroo, graphic physics engines can be utilized to provide the necessary real time feedback in order to design Tensegrity geometries of complex spatial constructs such a pavilion.
The pavilion illustrates how current digital design tools such as Kangaroo can be utilized to design new forms of modular based lightweight structural envelopes. The team of faculty and students learned how design effectiveness could be achieved within a process that is characterized by a parallel feedback of digital and physical models, prototypes and structural simulation.